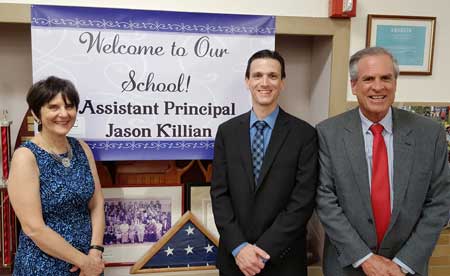 Jason Killian has come full circle in his career. His first experience in a special-education classroom was during his senior year at Chatham High School back in 1993 when he completed an independent study at ECLC of New Jersey's school at 21 Lum Avenue.
"Working with the teachers and students and seeing the amount of progress the students were making academically and socially was remarkable," recalled Killian. "It seemed to be such a rewarding, happy and nurturing place. It really solidified my decision to go into special education."
More than two decades later, on July 1, 2016, Killian will re-enter the ECLC school building, but this time as the assistant principal, replacing longtime administrator Susan Tillis, who is retiring.
"It is a dream opportunity to come full circle to where I had my first educational experience," said Killian. "It's a really unique place to be working."
Killian has spent the interim years earning a master's degree in educational leadership from Kean University and the appropriate certifications. He taught in a self-contained, special-education classroom in the Burnet Middle School in Union and was the supervisor of special services in the Union School District. Most recently, he served as Vice Principal in the Rutherford School District where he oversaw both an annex elementary school in addition to the Department of Special Services for the district.
"I've learned a lot about the relationships between the public and private schools and have years of experience working with families to make sure we're finding the most appropriate placements for children with special needs to be educated," said Killian.
He also has an insider's perspective into the value of a private, special-education school, such as ECLC. His two younger twin brothers, Chris and Nick, are ECLC graduates and have jobs through ECLC's employment affiliate, Community Personnel Services (CPS). They also take classes at ECLC's alumni night school, the Diane Gagliardi Enrichment Program, and some evenings they attend the adult PRIDE program.
"I have a long history with ECLC. I saw and witnessed everything firsthand, what it did for my brothers as students and what it continues to do for them to this day," said Killian. "They have a busier social life than I do!"
And, there are other touch points for Killian at the ECLC school. "My father attended high school there when the ECLC building housed Chatham High School, and my wife, Cathy, went to middle school there when it housed Chatham Middle School," said Killian. "I guess it was destined to be home for me."
While ECLC is soon to be his work home, Killian resides in New Providence with his wife, Cathy, and four small children.