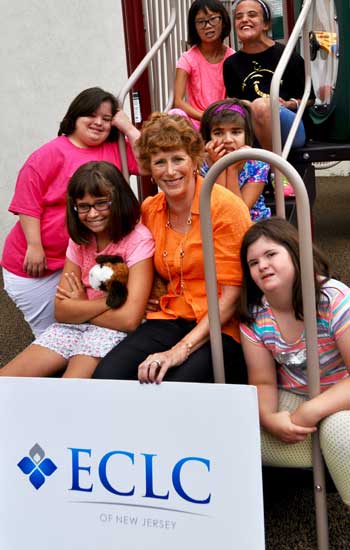 The first Star Wars movie was shattering box office records around the world when Vicki Lindorff started working at ECLC of New Jersey in the late '70s. A gallon of gas costs just 65 cents. And, big hair was, well, big!
Fast forward 40 years, and times have definitely changed. Good-bye, teased-up hairdos. Hello, Internet, iPhones and Facebook! But, Star Wars is still wildly popular, and so is Lindorff. This month she is celebrating her 40th year with ECLC of New Jersey's school in Ho-Ho-Kus for children with special needs.
On Sept. 7, ECLC praised Lindorff and recognized her many achievements at the nonprofit, private school. Under Lindorff, the school has built a solid reputation for innovation and excellence.
Why has she stayed at ECLC for 40 years? "I am a creative person, and ECLC has given me the opportunity to try out new ideas and innovative techniques," said Lindorff. "My enthusiasm and momentum are the same as when I started out. I tell my staff when I run out of ideas or am not open to their suggestions, then it's time to retire!"
There is no need to ask Lindorff to think differently. She has fostered a steady stream of new programs – from therapy dogs to help students calm down, a model apartment to teach daily living skills and a Zumba class to energize students in the morning. She has led a collaboration with a technology development firm, WebTeam, to create new mobile and classroom apps for students.
The staff has felt free to experiment and try new ideas with consistent success. For example, last year, the school's technology teacher, Steve Palimieri, won a statewide Innovations Award for cleverly combining old-fashioned hand chimes with computer technology, so students could make music together in a bell choir. The award came from ASAH, a nonprofit that represents 150 private, special education schools and agencies serving students with disabilities across the state.
Lindorff has also reached into the community and built partnerships with the Ho-Ho-Kus School District, Northern Highlands Regional High School and Paramus Catholic. Students from those schools regularly volunteer at ECLC, participate in events and performances and support fund-raisers.
After 40 years of service to ECLC, she is going strong. Last year, she inaugurated a playground that was especially designed for students with intellectual differences and physical challenges. The opening fulfilled a longtime dream for Lindorff and was fittingly named in her honor. And, this school year, the school is pioneering a robot named Milo to help students who have autism learn appropriate social and behavioral skills.
"The school wouldn't be the same without Vicki's energy and enthusiasm. She has been a tireless advocate for her school and students and continues to come up with creative, new ideas to help students and staff succeed," said ECLC Executive Director, Bruce Litinger.
Vicki Lindorff has been with ECLC of New Jersey almost since its founding in 1970. After earning her B.A. and M.A. in Communication Sciences and Disorders from Montclair State College, she joined ECLC as a teacher. As ECLC expanded its services, Lindorff moved into different roles with increasing responsibility. She obtained a certification as a principal/supervisor and was eventually named principal of the Bergen County school in 1982.