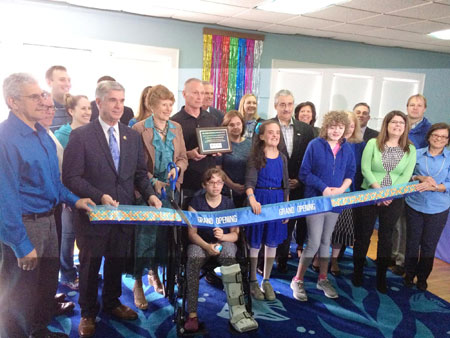 ECLC of New Jersey celebrated Autism Awareness Month with the grand opening of a new Sensory Room at the school in Ho-Ho-Kus.
The room was dedicated in memory of Principal Vicki Lindorff's mother, Louise McDonald, who spent her life in service to children. She was a public school teacher and, in her spare time, volunteered at ECLC.
A host of elected officials joined the school staff and ECLC Board members, including State Assemblyman Kevin Rooney (R-40), Bergen County Freeholders Mary Amoroso and Germaine Ortiz, Waldwick Mayor Thomas Giordano, Waldwick Council members Deb Dellavechia and Greg Bjork, Ho-Ho-Kus Councilman Edmund Iannelli and the Borough Administrator Bill Jones. Tara Gitter, a staff member for Congressman Josh Gottheimer (D-5), presented a proclamation. Ho-Ho-Kus Public School Principal Alexis Eckert, who has been collaborating with Lindorff to bring together students from both schools, was also on hand.
Giordano said the borough was going to pass a proclamation for Autism Awareness Month. "I would like to thank and salute the ECLC school, all the great teachers, staff members, the administrative staff, the aides, and the volunteers, who day in and day out, give of themselves with kindness, love and understanding and support to all the students who are here," said Giordano. "You bring sunshine, friendship, love and support to everyone and especially to the families who have their children here. And the borough of Waldwick is very thankful for you being in this community."
The Sensory Room is beautifully equipped to help students relax, calm down and regulate their emotions, especially when struggling with dysregulation. The school's team of specialists designed it with their expertise on which techniques and tools work for each student.
The room includes a tactile wall, memory foam beanbags, a Somatron tunnel, large therapy rocking chair, weighted stuffed animals and fidgets, a Helios effects projector, weighted blankets, relaxation music and more.
The new room was added in response to the changing student population at the school. More students are facing the challenges of autism, which can lead to sensory over-load. There also are students who need a chance for more activity. Time spent in a sensory room can increase focus and alertness, improve social skills and enhance productivity during the school day.