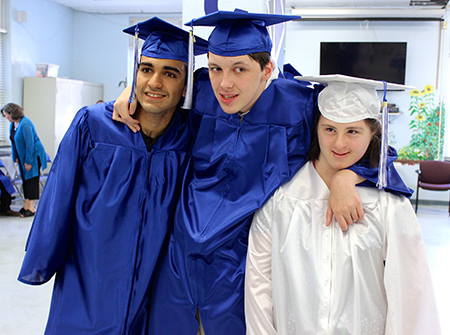 ECLC of New Jersey graduated 36 students with special needs from the Chatham and Ho-Ho-Kus schools last week.
The young adults received high school diplomas conferred by their hometown districts. During the Chatham school commencement ceremony, each graduate was given an opportunity to speak and deliver his or her "reflections," a school tradition for many years.
In his short speech, Marcello Matos said, "I have had so many good experiences at ECLC that have prepared me for life after graduation. I want to thank my family for all they do for me." Nicole Serkin said how much she loved her family, art and gym classes. Brendan Ryan said, "I have enjoyed going on respite trips, talking to my friends, dancing at the socials and going on trips to the mall and bowling alley."
Ryan and Serkin, and a number of their classmates, will stay in the ECLC family by entering the PRIDE Adult Program. PRIDE is for ECLC alumni who are not good candidates for work because of the nature of their disability. More than 160 adults are enrolled in ECLC's PRIDE Centers in Florham Park and Paramus. Matos, like some other grads, plans to pursue employment.
All ECLC students graduate with a clear plan for their future. For graduates who are able to work, ECLC offers employment services through an affiliate, Community Personnel Services (CPS). Specialists from CPS help graduates find meaningful jobs in their communities and provide ongoing support and advocacy in the workplace. ECLC enables people with disabilities to live as independently as possible.
Graduates who enter the PRIDE Program spend meaningful days continuing to learn and grow. The adults in PRIDE choose their schedule, from a wide range of options, including fitness, computers, book club, food shopping and cooking, fine arts and more. They also venture out into the community each day for volunteering, field trips and other activities. The program is open exclusively to ECLC graduates of any age and for as long as needed.