A generous family with Short Hills roots has pledged a $100,000 challenge grant to help ECLC of New Jersey in a final push to raise $2 million for the P.R.I.D.E. program, which serves adults with special needs.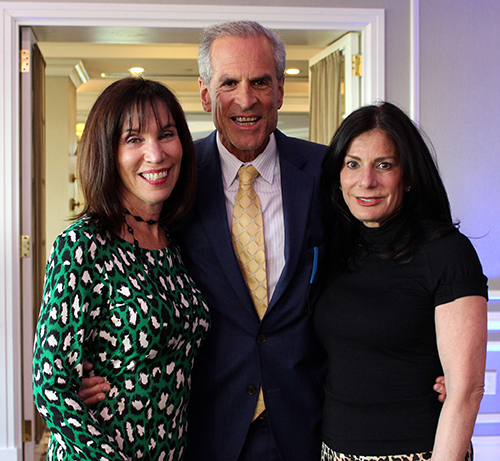 From now through Dec. 20, the couple, Billy and Judy Greenblatt, who lived in Short Hills for 25 years, will match every dollar raised for the P.R.I.D.E. Endowment up to $100,000. Already, matching contributions have been pouring in, and the nonprofit needs $86,000 to complete the campaign.
The fund-raising effort started in December 2014, when ECLC's Executive Director, Bruce Litinger, also a former, longtime resident of Short Hills, established the Renee and Bruce Litinger and Family P.R.I.D.E. Endowment. The goal was to ensure P.R.I.D.E. had a secure future for years to come.
Adults in P.R.I.D.E. are diagnosed with lifelong conditions, including autism, Down syndrome and other developmental disabilities. They are not good candidates for the rigors of the workplace and cannot travel independently. They live with their parents or another close relative or in a group home. P.R.I.D.E. offers a nurturing, safe environment in which they can continue to grow and spend meaningful, productive days.
The program was started by Litinger in 2008 for graduates of ECLC's special-needs schools in Chatham and Ho-Ho-Kus. It launched as a "pilot," at the urging of parents seeking a high-quality alternative for their adult children. It opened with a small group of clients and quickly expanded as interest grew. Today, P.R.I.D.E. serves 170 adults at centers in Florham Park and Paramus and is expected to reach more than 180 before the end of this year.
The Endowment provides an important safety net against uncertain government funding. Recently, the program shifted from state to federal funding through Medicaid, and there is no guarantee of full funding in the future. At the same time, demand for P.R.I.D.E. continues to escalate. Each year, a greater number of students who graduate from ECLC's schools at age 21 elect to transition into P.R.I.D.E.
The acronym P.R.I.D.E. stands for "Promoting Responsibility, Independence, Decision-making and Employability." The program puts adult clients first and focuses on opportunities for skill development and community engagement. Clients choose their daily activities – including book club, volunteering, cooking, arts and crafts, social skills, computers, fitness and more. Both centers have teaching kitchens, dedicated rooms for group activities and a fleet of vans to transport the adult clients throughout the community.
"When we launched P.R.I.D.E., I wanted to create an environment that was safe, happy, intellectually stimulating and community-based for our clients," said Litinger.
The Greenblatts have been longtime ECLC supporters. Judy Greenblatt and her son, Brandon, co-founded the P.A.I.R.S. Program at Millburn High School, along with Bruce Litinger and his son Jonathan. Through P.A.I.R.S., students volunteer to spend time doing recreational activities and building friendships with their peers at ECLC's school in Chatham. All three Greenblatt children, Brandon, Jake and Maggie, participated in P.A.I.R.S. during high school. Later, Judy Greenblatt served on the ECLC Board of Trustees for 10 years.
"With this challenge grant, the Greenblatts continue to demonstrate their devotion to ECLC and helping children and adults with disabilities!" said ECLC Executive Director Bruce Litinger. "We are so grateful for their ongoing support. By raising $2 million, it will fulfill our goal of creating a stable future for P.R.I.D.E. We will be able to give our families peace of mind that P.R.I.D.E. will have a solid foundation to withstand the unpredictability of government funding."