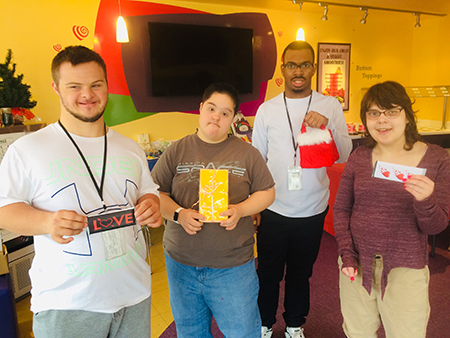 ECLC of New Jersey's students with special needs are hoping their new Pop-Up Shop becomes a hot destination in downtown Chatham this winter.
The Pop-Up Shop features products ECLC students make in school as part of the vocational program. The shop is located at the Yo Lotta Luv store, 258 Main St., in the heart of downtown.
The new shop offers students an extension of their in-school work activities. At the Pop-Up, they are learning how to greet and interact with customers, sell and handle transactions!
Their products range from coasters, mugs, water bottles, matted photographs taken around Chatham, cocktail napkins and more. They are also taking orders for customized items, such as T-shirts, mugs, tote bags, wine and drawstring bags, napkins and hand towels. In addition, students can manage mailings, collate newsletters and do more small jobs for local organizations.
It's all part of the school's vocational program called SKIL (Seeking Knowledge for Independent Living). The goal is to prepare students for life after graduation, so they can lead productive lives as adults. ECLC provides students with transition services and offers an adult day/evening program called P.R.I.D.E. and job placement and support through its affiliate, Community Personnel Services.
In their final year at ECLC's school, students go out into the community to "sample" jobs. They work at everything from child care and retail to food service, maintenance and office administrative support.
"So far the Pop-Up Shop is a big success! We sold out of our holiday items, and it's been steady business for the students," said ECLC Chatham School Principal Jason Killian. "We are appreciative to Jeff Burnett, the owner of Yo Lotta Luv, for giving us the space, rent free!"
The Pop-Up Shop is open for business on Mondays and Thursdays, from Noon to 2 p.m. Residents are encouraged to stop by and support ECLC's students with special needs.