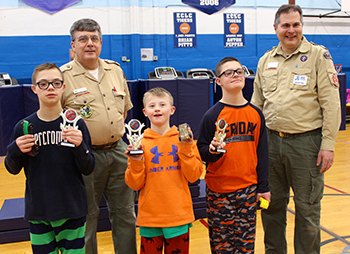 It was a heated competition for students with special needs at ECLC of New Jersey's school in Chatham on March 4!
The 12 students who are party of ECLC's Cub Scout Troop 100 raced small wooden cars in a traditional Pinewood Derby.
They built and decorated their cars during Scout meetings at the school with Troop leaders Principal Jason Killian and teacher Wade Dendy.
At the Derby, the Scouts were assisted by Tom Sugrue from Chatham's Troop 28 and Marc Maratea of the Patriots Path Council, who organized the race heats and awarded trophies to the top three fastest cars.
"It can be difficult for our students to access recreational opportunities in their home communities, so sponsoring a Troop at school gives them a chance to join Cub Scouts," said Principal Jason Killian. "This is part of the difference that ECLC is making in the lives of our students and their families."