When ECLC of New Jersey reopens its PRIDE Center for adults with special needs, the staff will have new computers to help get them up and running again.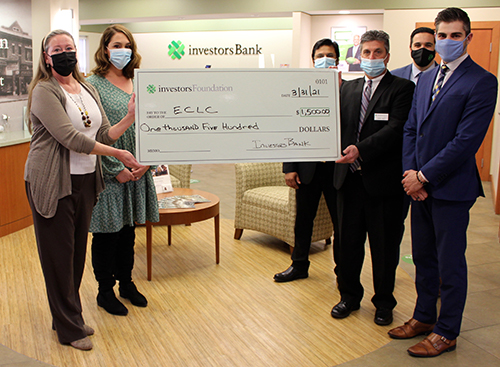 The nonprofit has purchased laptops with a generous donation from the Investors Foundation. The laptops are needed for staff to complete online forms at the end of each day, as required by state regulations.
This recent donation follows gifts in 2018 to ECLC's Chatham school for students with special needs for creation of a Sensory Room and a previous grant to the PRIDE Center for new technology in 2106.
"We are so thankful to Investors for the ongoing support of our programs and this latest gift," said ECLC Development Director Heather Alonge. "Through their generosity, our PRIDE staff can get this daily task finished more easily and quickly."
"Investors Bank is honored to be able to offer our support and partnership with ECLC and the Pride Center in delivering such an important benefit to their clients," said Chatham Investors Bank Branch Manager and Assistant Vice President, Mark Cody.
The PRIDE Center is part of ECLC's network of services offering "Education, Careers & Lifelong Community" to children and adults with including autism, Down syndrome and other learning disablities.
The nonprofit was founded in 1970 as the Early Childhood Learning Centers of New Jersey to provide early-intervention services to a handful of pre-school children.
Today, ECLC is an accredited, nonprofit with schools in Chatham and Ho-Ho-Kus, educating about 250 students, and adult programs serving more than 500 clients and school alumni.
ECLC offers transition and employment services through its affiliate, Community Personnel Services (CPS). CPS helps adults with disabilities find jobs in their communities and provides ongoing support and advocacy in the workplace. Graduates who are not ready for the workplace can enter the PRIDE Adult Program, with centers in Florham Park and Paramus. More than 170 adults are enrolled in PRIDE, which is exclusively for ECLC alumni. Adults in PRIDE spend meaningful days in activities, volunteering in the community and continuing to learn and grow throughout adulthood.