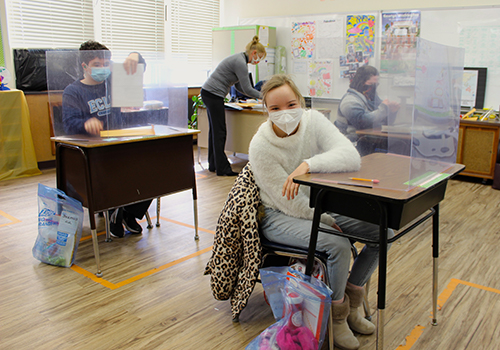 Children with disabilities, such as Down syndrome, are among those most vulnerable to COVID-19, yet since September classrooms have been open at ECLC of New Jersey's schools for students with special needs.
The schools located in Chatham and Ho-Ho-Kus reopened in the Fall and have remained open nearly every day for in-person education.
Of course, it wasn't easy returning 250 students, who live in towns all across New Jersey, to the classroom. Strict protocols had to be established, and the administration had to reconfigure classrooms to reduce risks.
Each day, students are temperature-checked before they can enter the building, and parents must complete a COVID-19 Risk Assessment questionnaire, either on a phone app or paper. Students and staff are masked up. Plexiglass shields are installed on desks to enhance safety.
The school day looks different, too. The schedule has been shortened to four hours daily, and students mostly stay within their assigned classroom, except for gym class, sensory breaks, speech therapy or other specialized services. Art and music are taught virtually by teachers brought into the classroom through Zoom video.
In addition to creating a safe, in-person learning environment, ECLC has worked creatively to continue its work-readiness program. ECLC students graduate at age 21 and spend their final years preparing for life as adults. Usually, older students travel into the community for job sampling and to take tours of work sites.
During the pandemic that's impossible, so teachers have brought small jobs into the classroom to continue developing work skills. Students have completed a variety of projects, from stuffing calendars into plastic bags for the Borough of Chatham to customizing shopping bags for a florist shop.
The schools have used Zoom to continue activities across classrooms and to include remote learners. Girl Scouts, clubs and after-school social events, such as dance parties and singalongs, help boost school spirit.
This inclusionary environment is important because about one-third of students are continuing with remote learning. They learn through a live video feed of the classroom teacher and on Zoom for related-services therapy sessions.
"In this hybrid model, we are proud to provide in-person instruction and related services to the maximum extent possible, while continuing remote learning at the highest quality for those students who cannot join us in school," said Chatham School Principal Jason Killian.
Given the choice of going back to school or remote learning, an overwhelming number of families sent their students back to the classroom. Killian was not surprised. "In-person instruction is critical to our students with special needs who thrive on routine, structure and direct access with teachers and therapists," he said.
Beth Freeman, whose daughter, Micayla, 10, has Down syndrome, agrees. "It has had an enormously positive impact for Micayla to go back to school," she said. "Our kids with Down syndrome need in-person therapy, and they thrive on schedules. I was starting to see behavior changes and regression. Since going back, it's been like night and day."
Freeman has been impressed with how ECLC has handled the pandemic. Micayla transferred to the ECLC Chatham school last year, just four weeks before the COVID-19 lockdown. "Last March, they did a great job of pivoting from in-person to live Zoom classes and sending home packets," she said. "They were really prepared."
Another parent, Eldy Pavon, understands the concerns of families who are keeping their children at home. Initially, she kept her son, Nico, out of school because she was worried about the risks of exposure. For the past year, they have done everything possible to keep the family safe, especially Nico, who is immunocompromised. "We basically don't leave the house," she said. "We don't see anyone or have anyone over."
So, when the Chatham school re-opened in September, she chose remote learning for Nico. "I wanted to see how things went," she said. "And, they did a great job. By November, I felt comfortable sending him back to the school." As an extra precaution, either she or her husband drive Nico from Westfield to the Chatham school.
Like many parents of children with special needs, she had noticed regression with Nico when he was out of school and those have disappeared. "Getting back to school is about more than academics.It's really key to his emotional and social growth," she said. "I am so grateful that he can see his friends again. Other districts should look at ECLC and follow in their footsteps—it's been life changing for us!"
Nico is back in the classroom and loving it. "He's like a totally different child. He's very routine-oriented, and this puts him back into a routine," said Pavon. "Plus, it gives us separation between family members. His younger sister is at home two days a week for her schooling; my husband is working from home. We were all on top of each other. This has relieved a lot of stress."
The same is true for the Freeman family. When Micayla was learning remotely, there were challenges for her parents. "Her dad or I would need to monitor Micalaya during class and then work at night to make up for the lost time," said Freeman. That's no longer necessary with Micayla back at school. "She loves her teacher and comes home from school happy," said Freeman. "When your child comes home laughing and smiling, it makes all the difference in the world. It makes you feel good."