We are so proud of the 27 graduates from our Chatham and Ho-Ho-Kus schools who walked the aisle in cap-and-gown earlier this month!
They were celebrated in ceremonies with awards, speeches and accolades for their accomplishments, while proud parents and staff looked on. Many of our grads are moving right into our PRIDE Adult Program in July, either in Florham Park or Saddle Brook. A few are entering the workplace or another day programs.
No matter their next step, they all have a solid plan for the future. One of the benefits of an ECLC education is the strong support we provide to help our students transition from school to adulthood—or from the world of entitlement to opportunities and services.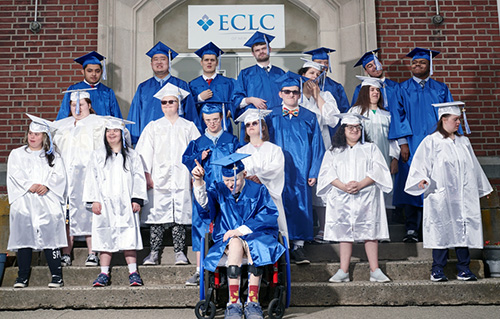 Our Transition Specialists from Community Personnel Services (CPS) work with every graduate, and their families, to create a post-graduation plan. Students "job sample" during the last year of school to determine the best fit for possible future employment. They also explore day programs and other alternative options.
CPS staff helps navigate through the sometimes-complicated maze of government agencies to access available aid and services, including transportation. CPS also offers Support Coordination services to clients in Essex, Somerset and Union counties and is among the few agencies in New Jersey allowed to approve individual plans without oversight from the state Division of Developmental Disabilities (DDD).
We are so proud of our latest graduates! These young people are now off to open the next chapter of their lives.