ECLC's services seamlessly continue after graduation, helping young adults make the right choice about the next step in their lives.
PRIDE® was created in 2008 for graduates of ECLC's two schools—and expanding rapidly ever since—this newest program in our network of services is available to adults with developmental disabilities, ages 21+. All graduates of ECLC's schools are offered a spot in PRIDE, as appropriate. Eligible clients can qualify for funding through N.J. Medicaid.
Overview
At PRIDE, a dynamic, self-directed program, clients choose their schedule of preferred activities from a wide range of options.
The day is divided into one-hour increments, targeting four key areas for habilitation:
Social Appropriateness—Clients experience continual peer-to-peer interaction and also participate in group discussions and role-playing activities aimed at nurturing their social skills. These activities are augmented and reinforced through volunteering in the community and field trips.
Independent Living—Clients build a foundation for future success and self-help by practicing daily living skills such as food prep and cooking, music appreciation and money skills and participating in leisure activities, such as karaoke or yoga.
Soft Skills for the Workplace—All clients are given an opportunity to develop the "soft" skills needed to further their independence, or if interested, in future employment. Clients begin with the basics of understanding what constitutes work; how to communicate on the job; problem solving; advocacy; and more. There are further opportunities for pre-vocational training and supported employment jobs.
Community Participation—Clients are rarely inside the Centers all day. They make daily treks to local spots for book club, fitness, volunteering, shopping and more. Other field and walking trips are part of the regular schedule.
Contact Us
PRIDE Center (Florham Park)
100 Passaic Avenue
Chatham, N.J. 07928
(NOTE: GPS/navigational systems use Florham Park, N.J. 07932)
Tel: (973-601-5310)
PRIDE Center (Saddle Brook)
250 Market Street
Saddle Brook, N.J. 07663
Tel: (201-272-1170)
Cell: (973-908-1978)
At A Glance
PRIDE is an adult day/evening program with Centers in Florham Park and Saddle Brook, N.J.
Hours:

The day program runs Monday–Friday, from 9:00 a.m.–3:00 p.m.
PRIDE Enrichment operates Mondays and Thursdays from 3:30p.m.–7:30p.m.

Funding/Referral Sources: Funding opportunities come from N.J. Medicaid.
Transportation: Clients and their families typically arrange for their own transportation to the Centers, with many utilizing the NJ Transit Access Link.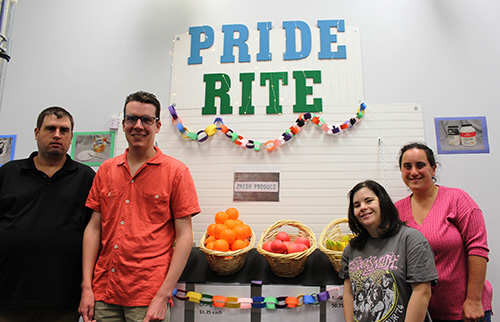 PRIDE Enrichment
PRIDE offers an evening social group and habilitation program on Mondays and Thursdays, from 3:30 p.m.–7:30 p.m., at the PRIDE Center in Florham Park.
This program is open to any adult with special needs, who is either working or involved with another day program. Activities target social skills and self-advocacy, independent living skills, and community participation. Clients go on restaurant outings, grocery shopping excursions, and cook dinner. They also enjoy health and fitness, book club, and the creative arts.