Our Executive Management Team
Peter Petrou – Executive Director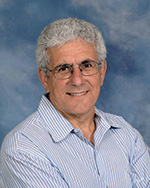 Peter Petrou assumed the role of Executive Director in 2020 upon the retirement of ECLC's longtime Executive Director, Bruce Litinger. Peter earned his B.A. at Bucknell University and graduated from the Duke University School of Law. As an attorney, he routinely counseled many approved private schools for the disabled, developing extensive knowledge of the New Jersey Department of Education regulations governing them. He also provided legal counsel to parents seeking appropriate educational services for their children. Prior to becoming the Executive Director, Peter served on the ECLC Board of Trustees from 1998 through 2019, including serving as the Chair during his last five years. Peter holds deep affection for ECLC. His daughter is a graduate of the Chatham school and is now a client in the PRIDE program. Peter is excited to continue ECLC's mission in his new role.
Alphabetically by last name:
Heather Alonge – Director of Development
Since 1990, Heather has been working to enhance ECLC's programs by nurturing relationships with individuals, corporations and foundations who give so generously. Heather joined ECLC in 1990, serving as the assistant to the executive director and the development director. In 1996, as ECLC was in the home stretch of a $4 million capital campaign, Heather was promoted to the development director position. Prior to ECLC, Heather attended New York University and worked in IT for the university's food service company.
Lisa Deo, HR Administrator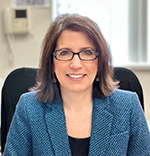 Lisa Deo joined ECLC in May 2021 as the HR Administrator. Lisa has been working in the Human Resources field for more than 15 years. She and her team are continuously building, enhancing and streamlining the process in the HR department to better service all employee needs. She holds a B.S. in Business Management from Kean University and a minor in Psychology. Prior to joining ECLC, she spent more than decades in the mortgage banking industry as the Vice President of Operations and HR. She had oversight for all operational strategies and workflow processes to ensure compliance with state and federal regulations as well as making the residential mortgage process smooth. Lisa continues to strive to enhance the employee experience.
Amalia Duarte – Public Affairs Director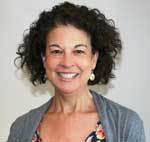 Amalia joined ECLC in 2009 to manage internal communications and public relations. She is a seasoned communications professional with experience in both senior corporate communications roles and as a reporter, editor and writer. Most recently, she was the Communications Director for Citigroup's Operations & Technology unit, a global organization of more than 22,000 staff. She was responsible for speech writing; media relations; e-newsletters; internal Websites; videos; large, employee meetings; and more. She earned a B.A. at New York University in journalism and political science and began her career as a newspaper reporter at the "Los Angeles Times" and later joined "The Record" in Northern New Jersey. She was an editor at "Meetings & Conventions" and reporter at "People" magazine. She has written for the "New York Times" and other national publications. Amalia serves on the Board of the Alliance of Private Special Needs Schools of North Jersey. Amalia is Chair of the Public Relations Committee of ASAH, the umbrella organization for schools and agencies serving people with disabilities.
Mary Griggs – Director, Community Personnel Services
Mary Griggs has more than 25 years of experience coordinating services for persons with disabilities. She has been with Community Personnel Services, Inc., (CPS) for 16 years, starting as an Employment Specialist, promoted to Assistant Director in 2007, and in July 2018 appointed as Director. She holds a B.S. degree in Business Administration and is an approved New Jersey Division of Developmental Disabilities (DDD) supervisor for Support Coordination. Prior to joining CPS, she spent years working on improving the lives of underserved families in New Jersey. Her advocacy focused on families and children with disabilities. Her volunteerism includes coordinating services for physically challenged young adults, organizing services for homeless shelters and serving on Covenant House New Jersey's Board helping families and children with HIV. Her corporate experience included coordination of international security and medical services for employees and families worldwide. During her tenure with CPS she has watched the steady growth of quality services provided to students, families and clients. She credits this to the compassion and dedication of the staff. CPS has grown from initially providing services to 30 students to supporting more than 400!
Jason Killian – Principal, Chatham School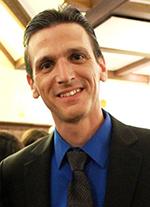 Jason joined ECLC's Chatham school in 2016 as vice principal. He was promoted to principal in July 2018, with the retirement of longtime principal Diane Gagliardi. He has come full circle in his career. His first experience in a special-education classroom was during his senior year at Chatham High School back in 1993 when he completed an independent study at ECLC of New Jersey's school at 21 Lum Avenue. More than two decades later, he re-entered the ECLC school building, but this time an administrator. Jason has spent the interim years earning a master's degree in educational leadership from Kean University and the appropriate certifications. He taught in a self-contained, special-education classroom in the Burnet Middle School in Union and was the supervisor of special services in the Union School District. Most recently, he served as Vice Principal in the Rutherford School District where he oversaw both an annex elementary school in addition to the Department of Special Services for the district. He also has an insider's perspective into the value of a private, special-education school at ECLC. His two younger twin brothers, Chris and Nick, are ECLC graduates and have jobs through ECLC's employment affiliate, Community Personnel Services (CPS). They also take classes at ECLC's alumni night school, the Diane Gagliardi Enrichment Program, and some evenings they attend the adult PRIDE program.
Christina Klimkowski – PRIDE Director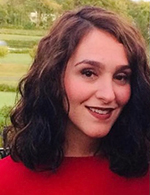 Christina has been with PRIDE almost since its inception. She graduated with a degree in secondary education from Kean University and soon after, joined PRIDE as an Activity Coordinator. She was promoted to Center Director in 2010 and to Co-Director of Programming in 2020. Christina and her team have made a huge impact in the formulation of the innovative programming that has made PRIDE a model for other day programs in the state. Among her creative ideas is a "PRIDE Salon" to promote hygiene, self-care and job skills. She oversees Medicaid funding and is the liaison to the North Jersey Day Program Coalition. Christina also sits on the board of Montclair State's Increasing Access to College Consortium.
Vicki Lindorff – Principal, Ho-Ho-Kus School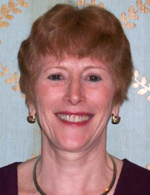 Vicki Lindorff has been with ECLC of New Jersey almost since the beginning. After earning her B.A. and M.A. in Communication Sciences and Disorders from Montclair State College, she joined ECLC as a teacher in 1977. As ECLC expanded its services, Vicki moved into different roles with increasing responsibility. She obtained a certification as a principal/supervisor and was eventually named principal of the Bergen County school in 1982. Over the years, Vicki has introduced many innovative programs, such as the creation of apartment-like classrooms to foster independent living skills, the SCERTS program, therapeutic horseback riding and most recently, the addition of a full-time service dog, Patrina. Vicki's philosophy is that, "as an educator our responsibility is to be creative and resourceful in providing the proper supports to maximize each child's strengths and encourage success and self-confidence in every way!"
Insia Saleh – CFO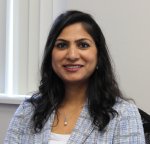 Insia brings a wealth of knowledge and experience with her strategic mindset and strong background in finance. She holds a bachelor's degree in Accounting and Finance, as well as an MBA. She joined ECLC as an accountant in 2015 and was promoted to the position of controller for all entities in 2018. During her tenure, she successfully implemented substantial improvements, including the transition to paperless operations. In 2022, Insia assumed the responsibility of managing the finances for both ECLC school campuses, in addition to her oversight of other entities. Her passion for ECLC's mission and unwavering dedication make Insia an invaluable member of the executive team, driving growth and ensuring success.