ECLC's Ho-Ho-Kus school enrolls around 80 students with a range of special needs, primarily autism, Down syndrome and multiple disabilities. The goal is to mirror a "typical" school experience as much as possible, with a strong partnership with the nearby public school, plus activities, trips, proms and a beautiful graduation ceremony!
At the same time, students are prepared for life after graduation with a renowned Transition Program, beginning at age 14. The program begins with in-house work experiences and eventually places students into actual work places. Students learn basic jobs skills and get a taste for the type of job they might pursue as an adult.
After graduation, students have two potential paths. They can find a job with support from the Employment Specialists in ECLC's Community Personnel Services (CPS), or they can enroll in ECLC's PRIDE Adult Program, if appropriate, with a center in nearby Saddle Brook.
What's On This Page?
Parents' Corner
School Newsletters
Policies and Handbooks
Recognition
Ho-Ho-Kus School BCBA Wins Award!
We are so proud of Ho-Ho-Kus school Board Certified Behavior Analyst (BCBA), Matt Kuzdral, for being named the Related Services Provider of the Year by ASAH in Region 1!
As a BCBA, he helps students further their independence; supports them through their most challenging behaviors; and uplifts them to feel valued and secure. Kuzdral now goes onto compete for a state title! Read more.
Ho-Ho-Kus Recognized for its Anti-Bias Program
Our Ho-Ho-Kus school and the Ho-Ho-Kus public school were recognized with the first annual BE WISE Award, honoring their joint efforts to honor respect and end bias. The schools' Ripple Effect program brings together students with special needs and their peers in the public school to forge friendships and learn from each other. The award was given by the Bergen County Prosecutor's Office. Read more.
Extraordinary Staff
We are so proud of teacher Alexandra Djurin, behaviorist Matthew Kuzdral and paraprofessional Marguerite Dimitriou for being nominated in the annual awards contest sponsored by ASAH, the umbrella organization for special-needs schools and agencies!
They will compete in ASAH's Region I and then potentially for statewide recognition.
Nominated as Educator of the Year
Teacher Alexandra Djurin always maintains a singular focus: Creating a supportive learning environment that allows her students to develop their skills and grow, while still having fun and being themselves. She has been dedicated to ECLC for 11 years. She excelled as a classroom paraprofessional for seven years, then became a classroom teacher, where she has worked for the past four years.
Along with another teacher, she rewrote the math curriculum and updated the current course materials and supplemented them with technology, Websites, instructional activities and resources. Her optimistic personality and kind demeanor make her extremely deserving of this award!
Nominated as Paraprofessional of the Year
Being a paraprofessional is not just a job for Marguerite Dimitriou, it is her passion. She started part-time at ECLC in November 2014 and worked as a one-to-one with the same student for three years. During that time, he went from not speaking more than single words to using complete sentences and became much more independent. In 2018, she went full-time and works with the school's youngest students, ages 5-9. Dimitriou takes the best practices from every teacher she works with and adds it to her growing repertoire of skills. She wants to make a positive impact on our students every day and always get the best out of them!
Peer Connections
From the beginning, ECLC has reached out to nearby schools to nurture opportunities for inclusion. These programs, teams and special events benefit both the ECLC students and those from other schools, creating greater understanding and awareness about children with special needs.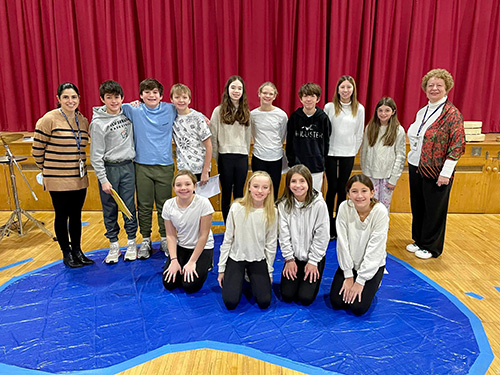 One example is the award-winning Ripple Effect Program started in 2015. The program brings together ECLC students with youngsters at the local public school, which is located within walking distance. Over the years, students have participated together in classroom and school-wide curriculum experiences, including Read Across America Day, art shows, field day, a Zumbathon , holiday shows and graduation ceremonies!
The public school students have learned that students with disabilities may have differences, but their needs are identical to that of anyone else: to be shown kindness, respect, and absolute acceptance.
In addition, students from Northern Highlands Regional High School and Ramapo High School volunteer at the school on a regular basis.
Other News
Dr. James Ball Joins Ho-Ho-Kus School
The Ho-Ho-Kus campus has added Dr. James Ball, Ed.D., BCBA-D President/Chief Executive Officer of JB Autism Consulting, on a monthly consultation basis.
As students' needs have shifted and grown over the past few years, it has become vital to support them with innovative ideas and strategies to assure success in the classroom and social emotional growth. Dr. Ball is able to offer some of these exceptional ideas and strategies from his wealth of knowledge in the field of education and years of experience in the field working with students on the Autistic Spectrum.
We are also excited for the support he can offer the staff to help provide students with the best supports to assure educational success. Dr. Ball collaborates with ECLC's own outstanding Behaviorist Matthew Kuzdral, who has instituted some extraordinary behavior modification programs and presented many outstanding staff in-service and parent workshops over the past five years. Together, this creates an excellent behavioral team that will keep the Ho-Ho-Kus campus on the cutting edge.
In 2017, Dan Erhardt, the Chatham school's technology teacher, was named the "Educator of the Year" for Region II by ASAH, the umbrella organization for special-needs schools and agencies in New Jersey.
Learn more about how ECLC uses technology at both our schools.
Anti-Bullying