When you buy Waggies dog biscuits, you aren't just giving your pet a tasty treat. You're also giving adults with special needs an opportunity to work.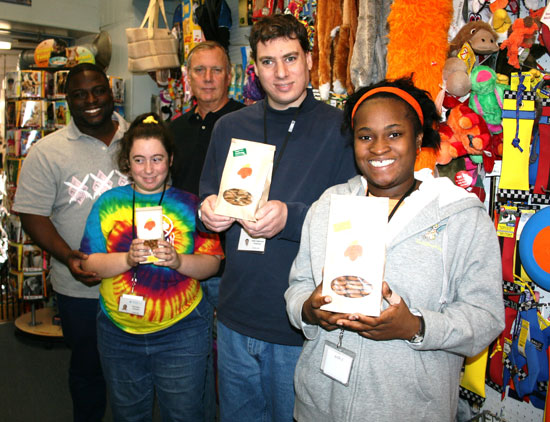 These all-natural dog treats are baked, packaged and distributed entirely by adults with special needs, from New Jersey all the way to Delaware.
Waggies are produced by a nonprofit called Maggie & Friends based in Wilmington, Del. The company was founded in 2007 by two friends, Mary Ann Nolan and Leigh Corrigan, to create jobs for their daughters and others who have intellectual disabilities.
The pup treats were quickly off and running, and today Waggies are sold at nearly three dozen retailers. The treats are available through our Morris PRIDE Adult Program, which recently became a distributor for Waggies treats. PRIDE clients package the treats and distribute the bags to the Madison Pet Shop in Madison and Crane Farm in Basking Ridge.
At the Madison Pet Shop, the treats are right next to the cash register and don't sit for long. "It's a good product. It's selling well, and I'm happy to help out," said Ned Finn, owner of the shop, which sells pet supplies and small pets, such as guinea pigs, hamsters, birds and fish.
Celebrating National Disability Employment Awareness Month
The importance of giving work opportunities to people with disabilities is recognized each October across the country. This month marks the 70th observance of "National Disability Employment Awareness Month," which celebrates the contributions of workers with disabilities. The theme for 2015 is "My Disability is One Part of Who I Am."
Work is empowering for PRIDE clients, who have a range of special needs, including autism, Down syndrome and other developmental disabilities. Clients learn new skills, get out into the community and feel a sense of success in their accomplishments.
And, that's exactly why the PRIDE program was started eight years ago for graduates of ECLC's special-needs schools in Chatham and Ho-Ho-Kus. The schools place a strong emphasis on transitioning from school to work, but for some students, the workplace was not an option. Some graduates were languishing at home, isolated from their peers and the community. So, PRIDE was launched to help those young adults continue growing and enhancing their independent living skills.
PRIDECO began in 2011 as a standalone, pre-vocational program to prepare clients for the world of work. PRIDECO is a PRIDE program offering pre-vocational skills preparation.
Adults with disabilities represent the highest sector of unemployment in the nation, and PRIDECO helps bridge that gap by providing training for clients.
In addition to Waggies, PRIDE clients pick up shredding at local businesses and residences to shred at PRIDECO. They provide office cleaning services and do in-house packaging for a number of companies.
ECLC has a second PRIDE center in Paramus. Both centers serve a total of 130 clients, with more enrolling every year. The clients' days are busy with pre-vocational skills training, yoga, fitness, meal preparation and cooking, learning money management and much more. To learn about contracting work to PRIDECO, please contact PRIDECO Director, Keldrick Wright, at (973-951-8787) or at KWright@eclcofnj.org.