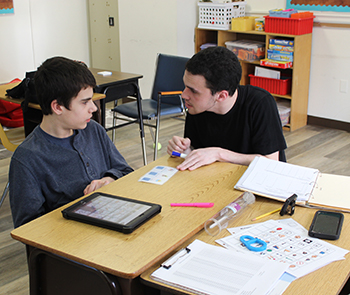 When ECLC of New Jersey opened its first school for students with special needs in 1970, the children were mostly diagnosed with learning disabilities, such as dyslexia. Today, about one-third of ECLC's nearly 300 students are diagnosed with autism spectrum disorder, and the numbers keep rising.
"As the student population has changed, our school has proactively addressed their needs," said Chatham School Principal Jason Killian. "We are always looking for new ways to support our students and help them thrive."
This year, ECLC's Chatham school has opened a new classroom geared especially for students with autism, using a teaching method called ABA (Applied Behavioral Analysis).
The school hired an ABA specialist, Taryn McLaughlin, who is excited to lead this new classroom. She explained how for some students, ABA is an excellent approach to learning, providing more focus and monitoring.
"ABA helps the students learn by closely tracking their achievements and understanding of specific skills," said McLaughlin. "They get a lot more one-on-one time, which also helps keep the classroom calm and behaviors in order."
The class has a high teacher-to-student ratio. There are three full-time students in the room and one student who spends part of his day there. The class is led by McLaughlin, and each student has a one-to-one para-professional aide.
The classroom will expand with more students, but it will remain a small, intimate setting. The plan is for these students to transition into the regular classrooms with their peers.
"This new class is a bridge to a less restrictive environment," said Killian. "One of the great things about ECLC is we have decades of experience working with students who have different disabilities. That gives us more flexibility and creativity in our approach."
Benefits of a New Sensory Room
The new ABA classroom continues to build a foundation of success for the growing number of students with autism.
Last year, the school opened a Sensory Room especially designed for students with autism and other disabilities with a behavioral component.
The Sensory Room is dimly lit when in use and quiet, calming music is played. A bubble tube light, with flowing bubbles and soft changing lights provides a multi-sensory calming environment.
The equipment is highly specialized. It includes a gentle "squeeze machine" that provides deep pressure, controlled by the student. A contour "relax" chair allows students to sit in a semi-reclined position on a soft surface. There is a hammock swing to offer slow, rhythmic swinging and a gentle squeeze. Students can climb into inflatable canoe-shaped seats, which provide a steady hugging pressure. Weighted blankets are gently placed on students to provide additional pressure.
Killian said, "We have found tremendous success with providing sensory breaks and sensory input to help students regulate and succeed in school."
Parents of children with special needs and any member of the public can arrange for a visit and tour ECLC's school at 21 Lum Ave., Chatham, by contacting Principal Killian at jkillian@eclcofnj.org or (973-601-5410).