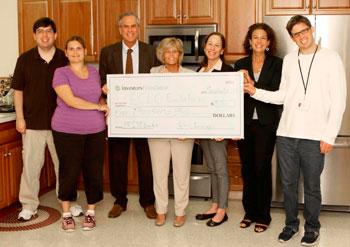 Every day, more than 140 adults with special needs, including autism, Down syndrome and other intellectual or medical disabilities, continue to learn and grow at ECLC of New Jersey's PRIDE Program.
The adult clients exercise in yoga class and touch football, learn to grocery shop and cook, read in Book Club, volunteer throughout the community, create multi-media artwork, and much more. Their days are filled with purpose and meaning, camaraderie and laughter.
Thanks to a recent grant from the Investors Bank Foundation, these adults are also getting more opportunities to go online. Through a $5,000 grant, ECLC purchased new desktop computers and laptops for the PRIDE Center in Chatham.
"We are extremely grateful to the Investors Bank Foundation for this grant. Our adult clients go online for research and education as well as for leisure activities," said PRIDE Director, Dot Libman. "As our program grows, we want to make sure all of our clients have equal access to computers and aren't held back on their road to independence."
Investors Bank Chatham Branch Manager Jill Gregg, who helped coordinate the grant, said, "We are grateful for the opportunity to form an alliance with the ECLC's PRIDE Center that serves adults with special needs. Our Bank assists local organizations by forming ongoing relationships, and we look forward to participating as volunteers in ECLC's special events and projects."
Lifelong Services
PRIDE is part of ECLC's network of nonprofit services offering, "Education, Careers & Lifelong Community" to nearly 800 children and adults with special needs. These programs offer families peace of mind that their child with special needs—no matter what age—will be supported for as long as desired.
The support begins at ECLC's two special-needs schools in Chatham and Ho-Ho-Kus for children ages 5–21. The educational program and services, such as occupational and physical therapy, are tailored to meet the needs of each student. Students also have a chance to fully participate in every school activity, including sports, clubs, Student Council, after-school trips and more. They receive workplace skills training starting at age 14 and get to try out and sample jobs in the community.
The goal is to prepare students to live as independently as possible. After graduation, students continue to receive services. They can find jobs with assistance from ECLC's affiliate, Community Personnel Services (CPS). Graduates, who are not immediately ready for work, usually enter the PRIDE Program.
PRIDE was launched in 2008, the same year that Jessica Prost of Chatham graduated from ECLC. Her mother, Dee, is incredibly grateful for PRIDE. "My husband and I both work full-time, and if Jessica didn't have PRIDE, she would be sitting at home doing nothing, not growing socially or intellectually and would be very depressed," said her mother, Dee Prost. "Jessica enjoys going to PRIDE every day. She enjoys the wonderful staff, seeing her friends and learning to become independent."