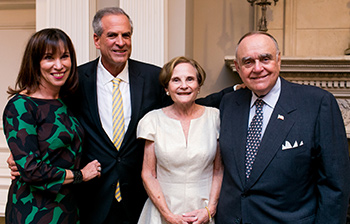 With generous financier Leon Cooperman at the helm, ECLC of New Jersey cruised to raising an unprecedented $700,000 at a gala on Sept. 14, honoring his wife, Toby Cooperman, a retired ECLC staff member. In addition, longtime ECLC supporter, Chatham Asset Management, announced an incredibly generous 10-year, $750,000 pledge.
"We are overwhelmed with the generosity of Toby and Leon, and everyone who supported our gala. This will go such a long way toward supporting our students and adult clients, as we continue to expand our services," said ECLC Executive Director, Bruce Litinger. "Toby and Leon are ECLC's guardian angels."
Toby Cooperman worked at ECLC's school in Chatham for students with special needs for 25 years as a Learning Disabilities Teacher Consultant (LDTC). She was a forceful and unforgettable presence, leaving a lasting legacy. She served as a mentor, tireless advocate for vulnerable students and was a quiet, behind-the-scenes financial supporter when the school or students needed help. "Toby was a mover and a shaker," said Cindy Collins, the school's LDTC. "To this day, when a situation comes up with a student, I often ask myself, 'What would Toby do?'"
Cooperman retired from the school in 2013 and then joined the Board of Trustees to continue her work on behalf of people with special needs. During the gala, her husband, Leon, paid a moving, entertaining and tearful tribute to Toby.
"I could talk for hours given her numerous accomplishments. She has both the passion for a lifelong involvement with special needs clients and compassion for them as individuals as well. For years I have said to be successful in your career you have to love what you do, and do what you love. That's the secret to success. For half of her life, she has worked in this field. Toby has been a wonderful role model for her family, from her commitment to her career to volunteering on several nonprofit boards. She has shown them how to find purpose in their lives," said Cooperman.
The couple are longtime benefactors of ECLC. They funded the Chatham school's playground, a school bus, and many other needs and initiatives.
They also have supported ECLC's PRIDE Adult Program. In 2014, they pledged a $125,000 matching grant to support a fund-raising campaign to renovate the Morris PRIDE Center for adults with special needs. Later, they pledged a $250,000 challenge grant to support the Renee and Bruce Litinger and Family Endowment. The Litinger Endowment started because government funding is decreasing for PRIDE, while demand for the program grows. PRIDE began in 2008 as a pilot program with 17 ECLC alumni. Today, PRIDE serves 165 adults at centers in Florham Park and Paramus.
ECLC is just one of the many nonprofits benefitting from the couple's extraordinary goodwill. This wonderfully generous couple has signed the Warren Buffet Giving Pledge, a commitment in which affluent individuals have pledged to give away the majority of their wealth. Leon Cooperman has often cited a quote by Andrew Carnegie, who said, "He who dies rich, dies disgraced," as inspiring their mission of giving.
Leon Cooperman served as co-chair of the gala, with Richard Gatward of Summit and Rich Pzena of New York City. The gala's premiere sponsors were BasePoint, Chatham Asset Management, the Gatward Family, Judy and Billy Greenblatt and Family, the Kaminsky Family Foundation, the O'Malley Family Charitable Fund, Robin and Rich Pzena, Macauley and Kimberly Taylor and Elaine and Donald Textor. Other major sponsors were the Lampf Family, Shelley and Steve Einhorn, RWJBarnabas Health and Sandy and Helene Jaffe and Family.
During this special evening, ECLC also recognized Litinger for his 20 years of leadership and many achievements, especially creating the PRIDE Adult Program. Bruce Litinger found his calling helping students with special needs in high school, and he has not stopped since then. After a long career as a special-education teacher, social worker and administrator, he joined ECLC as executive director in 1997.
Litinger has led the enormous expansion of services for adults with special needs and launched the PRIDE program. Today, ECLC serves more adults than students. "Bruce's leadership style has been to encourage the creativity and harness the energy that our professionals bring daily to their jobs, giving each of our very different affiliated organizations a chance to succeed," said ECLC Board President, Peter Petrou at the gala. "Our turnover rate is virtually nil, because Bruce makes it easy for our staff to love and work hard at their jobs."