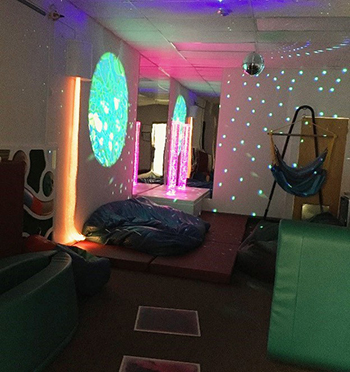 ECLC of New Jersey's Chatham school celebrated Autism Awareness Month with the grand opening of a new Sensory Room to provide therapy for the growing number of students with autism.
Elected officials from Chatham borough and nearby communities helped with the ribbon cutting! The guests included Chatham Borough Council President Len Resto, Chatham Township Deputy Mayor Karen Swartz, Chatham Borough Councilwoman Victoria Fife, Chatham Borough Councilman Thaddeus Kobylarz, Chatham Township Committeeman Mike Kelly, Madison Mayor Bob Conley and Madison Councilman John Hoover.
The student population at ECLC's school in Chatham has dramatically changed, requiring new tools and techniques to support them. Two decades ago, ECLC students primarily were classified with learning disorders, such as dyslexia. Today, about one-third have autism or another disability with a behavioral component. The severity of the students' sensory challenges also has increased.
As the student population has changed, the ECLC Chatham school has proactively addressed their needs and evolved its approach. Recently, the school hired a BCBA (Board-Certified Behavior Analyst), who is trained to integrate positive behavioral supports and other therapies with students.
Sensory Diets
The school has found tremendous success with providing sensory breaks, "sensory diets" and sensory input to help students regulate.
The Sensory room creates a new, permanent space for this purpose. It creates an atmosphere of calm and includes equipment that students can utilize with staff to smooth out their emotional states. The room is a "Snoezelen Room" and delivers stimuli to various senses, using dim, lighting effects, color, gentle pressure, sounds, music, scents and vibration.
A therapist, teacher, or aide always accompanies students when they use the room. Students come to relax or take a break from class, when they are over-stimulated or during times of stress. They can also earn time in the room as part of their behavior plan.
Each student will have a customized list of activities and uses for the Sensory Room. For example, some students complete listening therapy, while lying on the beanbags, in the rocker or on the hammock swing.
The room features:
Abstract tactile panel
Bubble tube light
Contour relax chair
Fluorescent light covers (clouds)
Hammock swing
Liquid tile floor mats
Scents
SensaSoft canoe
Soft lighting
Sound machine
Squeeze machine
Wall padding
Weighted blankets (of different weights)