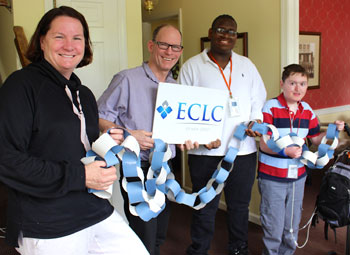 ECLC of New Jersey's school in Chatham is celebrating Special Education Week by highlighting how links with the community support our students with special needs.
The second week in May has been designated by Governor Phil Murphy as "Special Education Week" in the Garden State. This year's theme, "Working Together to Build a Special Future for All" celebrates the importance of teamwork and connections in creating a positive outcome for students with disabilities.
"ECLC would not be the school it is today, without the warm embrace of the Chatham community," said Principal Diane Gagliardi. "We are so grateful to businesses that allow job sampling, the public and private schools that welcome our students for activities and the longtime support of organizations, like Kiwanis and Jaycees."
More than 16% of New Jersey's students—234,000 children ages 3–21—are eligible for special education services. As one of New Jersey's 180 state-approved private schools for students with disabilities, ECLC is proud to be part of the support network available to these children.
ECLC stands for "Education, Careers & Lifelong Community" and serves more than 800 children and adults from 11 counties who have special needs, including autism, Down syndrome and multiple disabilities. ECLC is an accredited, nonprofit with two private schools in Chatham and Ho-Ho-Kus, educating nearly 300 students, and offering adult programs and services.
At ECLC, all students graduate with a clear plan for their future. ECLC offers employment services through an affiliate, Community Personnel Services (CPS), also based in Chatham. Specialists from CPS help adults with disabilities find meaningful jobs in their communities and provide ongoing support and advocacy in the workplace. Graduates who are not ready for the workplace can enter the PRIDE Adult Program, with centers in Florham Park and Paramus. More than 160 adults are enrolled in the PRIDE Program, which is exclusively for ECLC's graduates. Adults in PRIDE spend meaningful days continuing to learn and grow throughout adulthood.
ECLC works in close collaboration with local school districts to serve students whose needs cannot be met in a public school setting. Students with a wide range of disabilities from autism to physical disabilities are eligible for special education services, including private special education services.
Like all children, students with disabilities have unique strengths, interests, talents and challenges. Dedicated educators, therapists and para-professionals work with these children, their parents and school districts to get them ready for a complex world.
The special-needs school's state association, ASAH, is committed to the concept of "Partnerships for Promising Futures" and has been working in collaboration with the New Jersey School Boards Association for more than 30 years in celebrating Special Education Week.
This week, ECLC, together with all ASAH schools, celebrates the achievements of students with disabilities and thanks the local community for its important support role in the success of these students.